We don't usually have the time to sit down and review a product, but every so often something comes our way that deserves the attention.
All of our wedding clients know how much we despise leaving your beautiful wedding photos on a DVD, which is why we insist every couple lay hands on one of our hand crafted wedding albums. Most of the time, clients bite and buy an album. However, some of the more crafty brides want to take on that process, which is fine, but we feel guilty handing over a disc and nothing else, which is why most of our packages come with a free canvas.
So, we've used a wide variety of canvas suppliers, but none of them have been exemplary. I've had lots of success with the likes of Canvas People, Canvas on Demand and PicaNova, but each one of them has required a reprint due to quality control or color issues. We're well versed in the realm of color profiles and PPI, so its always been printer error. Fortunately, each issue we've had with the said companies has been resolved, but its tacky and costs us our time.
Having used CG Pro Prints for several months now, its been a pleasant experience. Located in Longmont Colorado, they are local to us, which helps cut down on shipping times. But, that isn't reason enough write home about. We're concerned about quality and nothing else, which is why we took the time to write a CG Pro Prints Canvas Review.
Straight Canvas Edges
In the example photos below you can see how crisp and clean the edges of the CG Pro Prints canvas print are in comparison to the Canvas People print. I took these photos with a long focal length to reduce distortion, but even at a distance of 6 feet, its easy to see where the Canvas People print dips.  This is due to canvas being to tightly stretched on a weak frame with no backing. The bowing or dip effect will only get worse with time as the wooden frame weakens.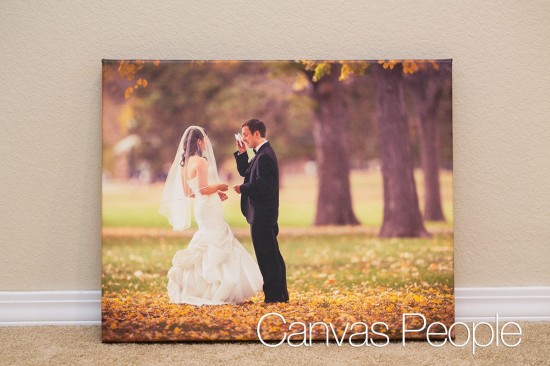 Inspecting the CG Pro Prints sample, the lines are about as straight as you can get without detailed measurements. I also expect the CG Pro Prints to retain this perfectly square shape for some time due in part because of the quality framing material, but more because of the heavy backing.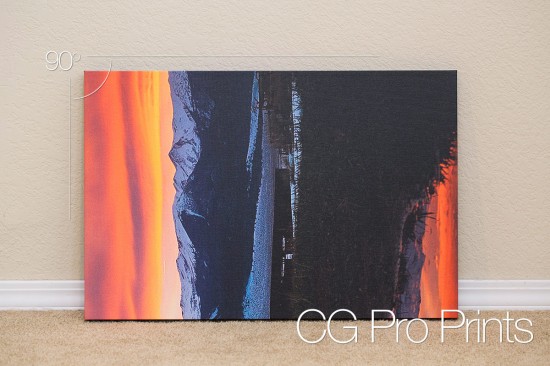 Print Quality & Color Rendition
One of the biggest reasons for writing this review is because of the amount of issues I've had with their gallery wraps. Zero. I don't have to worry about them applying some odd color correction profile or using a different color profile. Because its a non-issue, I can send prints directly to clients, eliminating on time and shipping costs. Their canvases are UV coated to reduce fading and scratching, but that is pretty standard now. You can find more details on their Canvas Features page.
Tight Corner Wrap
CG Pro Prints produces some of the tightest wrapped corners I've seen on a canvas print. While I'm no professional myself, I can usually get a cleaner corner than Canvas People, but there is a vast difference between mine and CG Pro Print's. Most likely their canvas wrapping machine has been tweaked and fine tuned to very strict standards.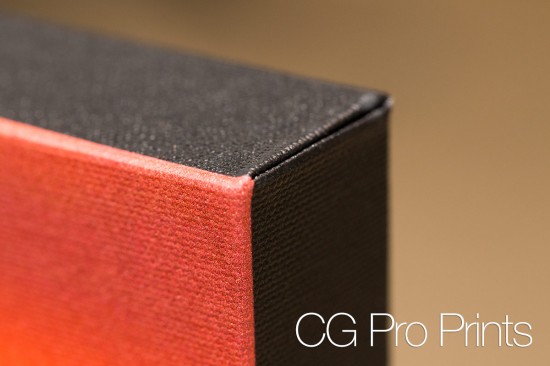 Hanging Your Canvas
I won't waste your time here. The included picture hanging hardware is a nice touch. It comes already mounted, and not just thrown in the box for you to center and pound in.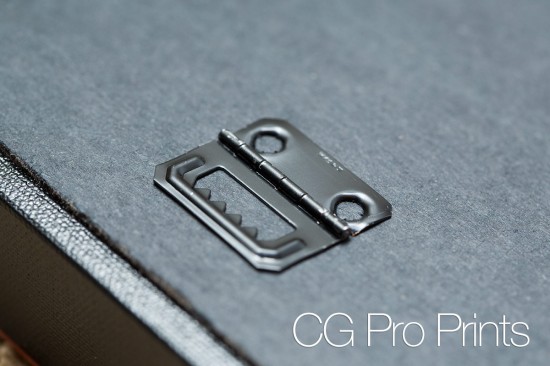 My Only Complaint
They currently only offer 1 ¼" depth on their canvas frames. While I find this to be a great size, they don't have the option to go thinner or thicker. When building custom frames, sometimes its nice to have those options. If you're hanging it on the wall, you can't go wrong with their thickness.
Review Summary
You'll have a hard time finding a canvas print supplier that competes with CG Pro Prints in regard to price and quality. Having been clients of theirs for several months now, we've had zero issues and a bunch of beautiful prints made. Their gallery wrap frames are solid. The print quality is spot on. Their customer service has been prompt and professional. They are a step above your larger suppliers like Canvas People and Canvas on Demand.